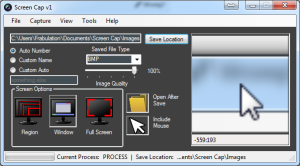 Screen Cap is a multilingual program designed to take screen shots quickly and effectively. Screen Cap can take images of a selected region, open window, the full primary monitor or the complete display (by selecting the desktop as the active window).
With Screen Cap simply press the 'Print Screen' key on your keyboard to begin taking a screen shot. If you have the Window or Full Screen setting activated the 'Print Screen' key will automatically save your images in the folder you specified with the name you specified. For Regions on the screen you simply Left Click with the mouse and draw the area you would like to capture.
Do you get frustrated with trying to find your saved images after you take the screen shot? Unlike most screen shot programs, Screen Cap can open the saved destination after a screen shot is taken. Screen Cap also comes with an Image Quality scale, which will allow you to preset the quality you would like your capture at.
Don't like how other programs stay opened and visible when in use? Screen cap has three display modes. 'Normal', which is the default, will keep the full program in view. 'Compact' will reduce the size of Screen Cap to only show the menu options. The last option, 'Tray' will put Screen Cap in the tray icons so you never have to see it while its running.
Features
• Automatic numbering system will automatically generate image numbers so you never overwrite previously taken screen shots
• Customizable names and save locations with numbering system if wanted
• Adjustable image quality
• Option for automatically opening saved file directory after screen capture
Multilingual
Screen Cap supports 10 different languages:
Screen Cap Download Options
A free trial is available with full functionality; the only difference is that the produced images will have a trial watermark.
System Requirements
Minimum
10MB HD Space
1 Ghz processor
512MB Memory
.Net Framework 2 or higher
Tested and Running on
Windows XP (With XP operating systems the mouse option relocates by 8×8 pixels)
Windows 7
Windows 8
Windows 8.1
Windows 10